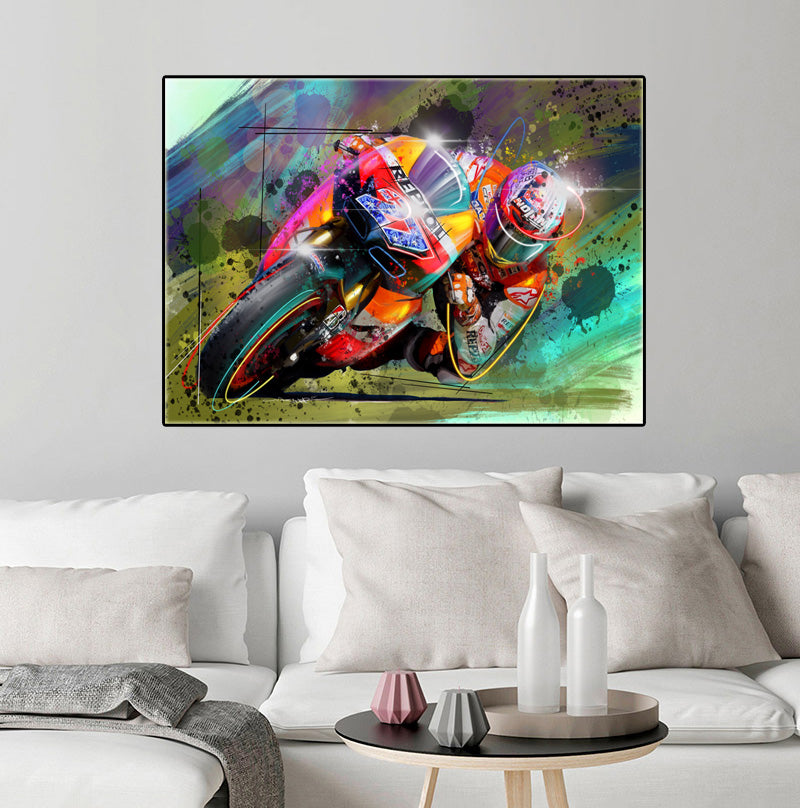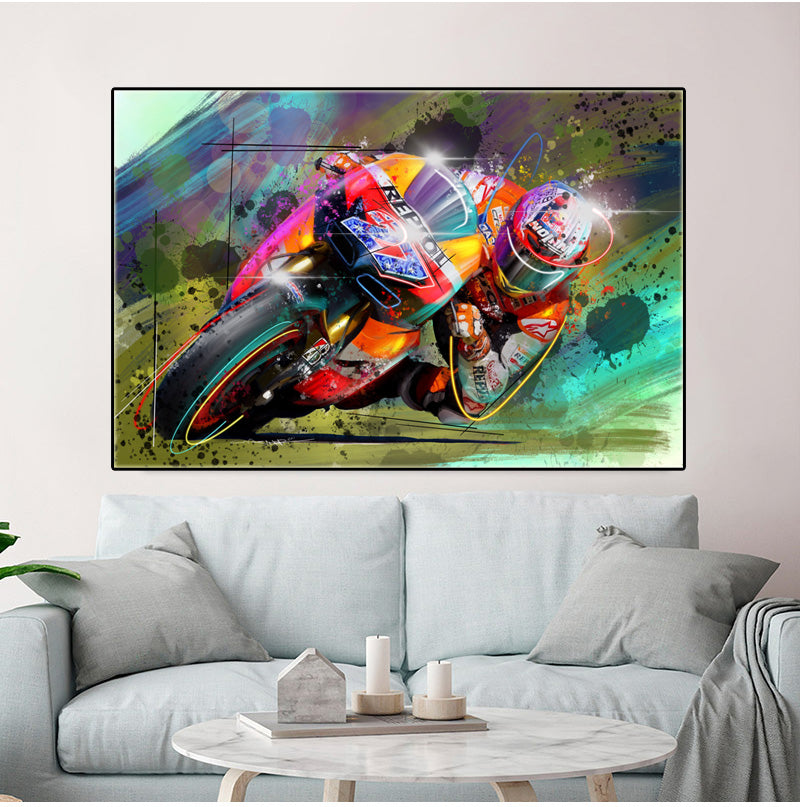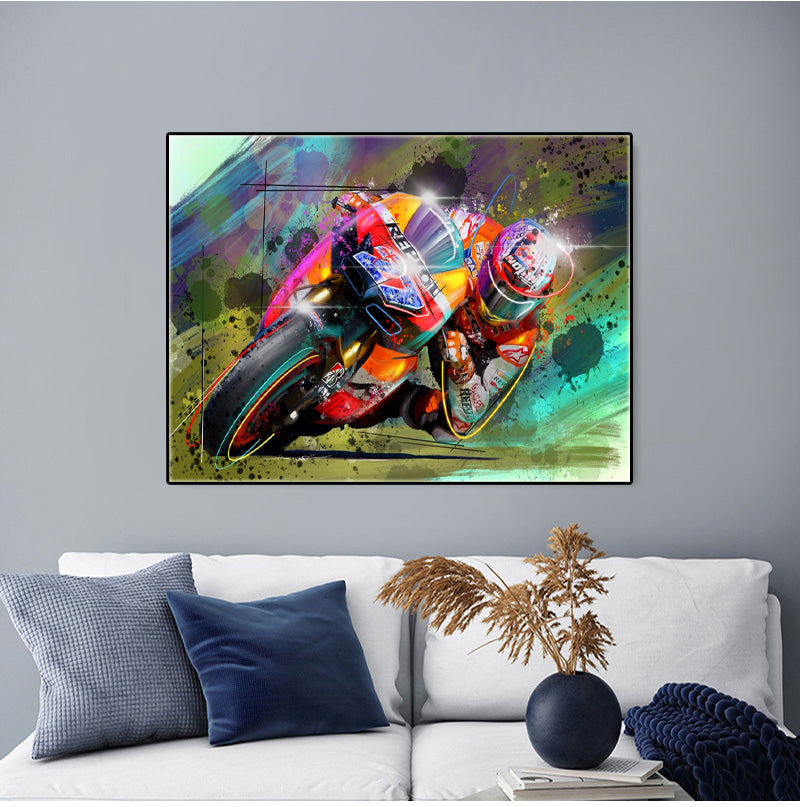 MotoGP 27 World Champion Casey Stoner Art
20210729
Regular price
$69.99
Sale price
$49.99
Save $20.00
/
---
Low stock - 9 items left

Inventory on the way
Ever wondered why people buy artwork?
It's quite simple! Just take a look around you. From the sky, to the sea, to the buildings, to the trees, the lilies, the flowers, everything around you is a work of art.
At Kigrumi, our goal is to create a piece of art that you can connect to.
This design right here was inspired from conversations, creativity and what we consider as valuable.
It is an aesthetically pleasing way to decorate your home, and inspire your visitors, and even yourself. It is an ultimate personal healer, during stressful times. It is designed with the hopes that it speaks to you, and gives you a visual expression of what you find meaningful and valuable.
In times past, and up until date, works of arts has been one of the best and oldest ways of investing your money.
Purchasing this piece is not only a great investment, but you will be happy to be among the selected few to have this truly remarkable piece, which will definitely see a significant increase in value in a future date.
Our designs are exclusive, explicit and unique, and in order to maintain their uniqueness and standard, we do not sell more than 50 designs per product. This means in coming times, do not be surprised to see that this has been sold out.
Our paintings were designed and created with much attention to detail. The colors, the sketches, the foreground and background elements were all intelligently put together to inspire, motivate and fill you with a new vigour.
These unique qualities will help you open up your mind to ruminate and break through roadblocks, creatively. It has the ability to fuel your imagination and evoke feelings of strength to undertake challenging tasks.
Our paintings enrich your environment and home, brightening and transforming your home setting by giving it character and warmth. You can never go wrong with a space full of artful beauty.
Be it a festive time or a very special occasion, our piece of art will serve as a perfect gift to any loved one.
So, what are you waiting for? Embrace the warmth of the creativity from this design by making a purchase today.
Product Features
It Starts With A High-Quality Image
Use Only Premium Ingredients
The standard for precision and stunning color reproduction
The best quality canvas for texture and finish; premium inks for vivid color

GUARANTEED THAT
Free Shipping Worldwide Available
Guaranteed Satisfaction,Or Your Money Back
Fedex / DHL / UPS / Aramax  or Fast shipping Only
Casey Joel Stoner AM (born 16 October 1985) is a retired Australian professional motorcycle racer, and a two-time MotoGP World Champion, in 2007 and 2011. Stoner served as a test and development rider for Ducati from 2016 to 2018.

Born in Southport, Queensland, Stoner raced from a young age and moved to the United Kingdom to pursue a racing career. After first competing internationally in 2002, Stoner became MotoGP World Champion in 2007 for Ducati. One of Stoner's greatest talents was his ability to ride any motorcycle beyond its perceived limits, even producing race wins on the inferior Ducati chassis after both Honda and Yamaha had forged ahead in development during his later racing years.Stoner won the MotoGP World Championship riding for Ducati and the win in 2007 remains as Ducati's only championship. During 2008 and 2009 Stoner remained a strong contender, winning multiple races, but not being able to consistently challenge Valentino Rossi and Yamaha for the title during those seasons. In mid-season of 2009, he even missed a few races due to chronic fatigue due to anaemia, having started the season strongly. In 2010, Ducati failed to cope with Yamaha and Honda until very late in the season, when Stoner went out on a winning note winning three races.

After his departure from Ducati to Honda following the 2010 season, Stoner won a second world championship title in 2011 for Repsol Honda. The championship was won in a dominant fashion with ten Grand Prix wins and sealed by winning his home race with two races remaining. Prior to the 2012 French Grand Prix, Stoner announced that he would retire from Grand Prix racing at the conclusion of the 2012 season. Stoner was also the winner of his home Grand Prix of Australia on six consecutive occasions between 2007 and 2012. Due to a crash during practice at Indianapolis, Stoner missed several races due to injury, curtailing his championship challenge for his last season. He rounded off his MotoGP career with a remarkable sixth consecutive win in his home Grand Prix at Phillip Island and with a podium in his final race.

On 27 March 2015, HRC announced that Casey Stoner would return to competition in a one-off ride in the 2015 Suzuka 8 Hours. Stoner crashed out of the race due to a stuck throttle, and Honda apologised to Stoner over the technical failure that caused him to injure his ankle and shoulder.
-Collected from Wikipedia
 MotoGP World Champion Casey Stoner Art
The   MotoGP World Champion Casey Stoner Art is printed on high quality canvas which are designed specifically for canvas printing .Our canvas is a white semi-gloss artists canvas, it is costlier than photo paper.
MotoGP World Champion Wall Art Prints
We only use high definition image, the poster has vibrant color,it can be preserved for a long time; Make your room lively and interesting.
Motorcycle Racer Casey Stoner Art Prints Online
Beautiful Motorcycle Racer Casey Stoner Art Prints Online is available in several sizes.
This will make your room look stunning.
Free shipping & Return
No Worried about  MotoGP World Champion Casey Stoner Art Room Decor not suitable for the room after received.
100% problem solved, please feel free to contact with us if you have any problem;
It is a poster only, comes without Wooden Frame please contact us if you need 
The canvas poster print is very nice, it can be framed easily, great for home decoration ,bedroom decoration ,gift;
 MotoGP World Champion Casey Stoner Art
Limted sales  ,Get it now!!! 
UPS / DHL /FEDEX /ARAMAX ONLY